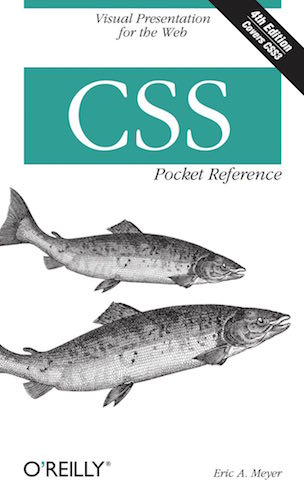 CSS Pocket Reference
By Eric A. Meyer
Published by O'Reilly & Associates
ISBN 0-596-00120-7
approx. 113 pages
The CSS Pocket Reference briefly introduces CSS and then lists all CSS1 properties, plus the CSS1 pseudo-elements and pseudo-classes. Since browser incompatibility is the biggest obstacle to CSS adoption, we've also included a comprehensive guide to how the browsers have implemented support for CSS1. For anyone who wants to correctly implement CSS, this is a handy condensed reference to all the details in the larger volume, Cascading Style Sheets: The Definitive Guide.
Table of Contents
Basic Concepts
CSS Property Reference
CSS Support Charts
Where To Pre-Order
If you prefer to hold a book in your hands before deciding to buy it, some chains like Borders will very likely carry the title (as they do most O'Reilly books). You could also try ordering it through your local neighborhood bookstore, which would no doubt appreciate the patronage. You might have to wait a few days for it to come in, but it's a small price to pay for supporting community merchants.