Eric A. Meyer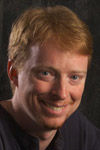 The professional bio:
Eric A. Meyer has been working with the Web since late 1993 and is an internationally recognized expert on the subjects of HTML and Cascading Style Sheets (CSS). He is the principal consultant for Complex Spiral Consulting and lives in Cleveland, Ohio, which is a much nicer city than you've been led to believe. A graduate of and former Webmaster for Case Western Reserve University and an alumnus of the same fraternity chapter to which Donald Knuth once belonged, Eric coordinated the authoring and creation of the W3C's CSS Test Suite and has recently been acting as List Chaperone of the highly active css-discuss mailing list. Author of "Eric Meyer on CSS" (New Riders), "Cascading Style Sheets: The Definitive Guide" (O'Reilly & Associates), "CSS2.0 Programmer's Reference" (Osborne/McGraw-Hill), and the fairly well-known CSS Browser Compatibility Charts, Eric speaks at a variety of conferences on the subject of standards, CSS use, and Web design. For nine years, he was the host of "Your Father's Oldsmobile," a weekly Big Band-era radio show heard on WRUW 91.1-FM in Cleveland. When not otherwise busy, Eric is usually bothering his wife Kat in some fashion.
Like it says on my résumé, I've been a member of the information technology departments of a browser developer, a consulting firm, a university, a law publishing firm, and a pharmaceuticals company (in reverse order), among other things. I've also been a radio announcer for WRUW-FM 91.1, an amateur actor and theater crewperson, a drummer, and a burger-flipper. I have a deep interest in cinematography, I cook, I read, I listen to a wide range of music, and I have a B.A. in History, as well as minors in astronomy, English, and artificial intelligence. My hair is red, my eyes are blue, and I'm approximately six feet tall.
What keeps me busy? Quite a lot.
Between writing an O'Reilly book on the subject, my articles for Web Review and the O'Reilly Network, the CSS browser support charts I maintain, my work with the World Wide Web Consortium (W3C), teaching CSS courses for the HTML Writers Guild and others, and general particpation in various CSS forums (including css-discuss), I've built up a reputation for knowing a thing or two about CSS.
I discovered at some point that I really enjoy travelling to other places, getting up in front of groups of people, and talking about subjects I know well. So far, presentations have happened in the United States, Europe, and Australia. Currently seeking opportunities on the other four continents (maybe the South Pole needs a better Web site!) in addition to your city. Interested? E-mail me (see above)!
This area offers every piece of writing I've ever done and felt comfortable with releasing into the public eye. This includes my many professional articles on the topic of CSS (mostly the series "A Sense of Style"), a smattering of commentary pieces, and bits of what I like to think is humorous writing. Your opinion may differ.
Every Wednesday morning, I do a two-hour radio show on WRUW-FM 91.1. The show covers music recorded between 1920-1950, roughly speaking, so you can enjoy big band, swing, blues, jazz, and other gems from that period. Thanks to our streaming audio, you can hear the show anywhere in the world—assuming you're awake between 1300 and 1400 GMT (subtract one hour during American daylight savings time).