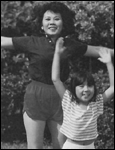 Girlz 2 Women
Q. What can be confusing, exciting and scary all at the same time?
A. Adolescence!

N APRIL, PRE-TEEN girls teamed up with their moms and other adult female role models at The Health Museum of Cleveland to unravel some of the mysteries of becoming a woman. Area health experts led workshops for the girls and women about physical changes of becoming a woman, bodies & self-esteem, building mother/daughter communication skills and wardrobe, and skin & hair care. Program partners included area Girl Scouts, Girls Clubs, Big Sisters, Parents Without Partners, and the Cleveland Recreation Centers. Special thanks to Gap for Kids and M. C. Hair Consultants.
Made possible with generous support from: National City Investment Management and Trust Services
---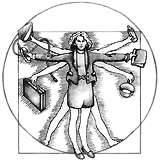 They Looked Marvelous

EARLY 100 "SUPERWOMEN" LEARNED NEW WAYS TO balance their careers, children, relationships, parental care and more at the You Look Marvelous Inside & Out day-long workshop seminar. Two dozen experts led workshops on Nutrition & Fitness, Looking Good, Stress Management and Ageless Wisdom. Special thanks to The Plain Dealer, Dillard's, Liz Claiborne Dresses, and Lancome, Paris for their generous support! Watch your mailbox for information about the September 7, Holistic Health For Women: Seeking Balance with Clarity.