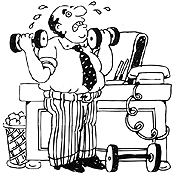 MPROVED PRODUCTIVITY AND fewer missed days means better morale and lower healthcare costs.
The Health Museum of Cleveland introduces its new corporate wellness programs focusing on worksite health for companies of all shapes and sizes.
With 30 percent of all employer paid healthcare costs attributed to unhealthy lifestyle habits, our programs aim to give employees knowledge and strategies to make changes needed for a healthier future.
The worksite programs are based on the award-winning program developed for BP America's 100,000 worldwide employees by Patricia Horvath, the Museum's new Associate Executive Director. Programs are tailored to goals of a company in the areas of Health Awareness, Health Education, Behavior Modification, Health Risk Reduction and Rehabilitation.
Some examples of client programs offered:
B.F. Goodrich. S.O.S. Sign Off Smoking at 3 sites
B P America. Critical Incident & Disaster Training Program
Ciuni & Panichi. Keeping Our Balance - managing stress during time of high-performance demands
Euclid City Schools. Well, Well, Well - day-long employee health & fitness program
Lubrizol. Custom-design & implementation for employee wellness programs
Progressive Insurance. AIDS interactive computer information kiosk
Sherwin Williams. S.O.S. Sign Off Smoking
Society of Human Resource Personnel of Lake & Cuyahoga County. Workplace Violence Prevention
Westfield Insurance. Stress management and personal power for top sales representatives and their spouses.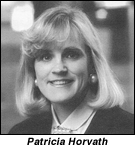 As the Museum's new Associate Executive Director, Patricia Turk Horvath, R.N., M.S.N, steers the course for the Museum's youth and community education programs, exhibits, special events and corporate wellness programs. No stranger to the Museum, she served as a Museum Trustee from 1990-1995 contributing expertise to the Education and Benefit committees. For the past 15 years, Patricia has specialized in worksite health promotion and occupational and safety programs. She served large and small corporate clients as president of the International Center for Health Promotion, Inc., and for 10 years managed BP America's award winning International Worksite Health Promotion program. Prior to her corporate work, she served as Assistant Professor and Coordinator of the cardiovascular nursing graduate program at Yale University. Patricia earned a B.S. in Nursing from St. Louis University and M.S. in Nursing from Case Western Reserve University.
Contact Patricia Horvath at ext. 124 to learn more about worksite programs for your company.