Published 17 years, 11 months past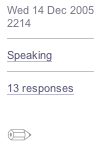 A followup to my previous post: thanks to the nearly impossible to find Character Palette (and thanks to Todd Dominey for instructions on how to enable and use it), I was able to determine the problem and restore my editing pencils.  It turns out that a beta copy of the font "Freight" was what caused the problem.  This beta copy of Freight was for some reason convinced that Unicode 9999 is the reference to a Z-caron instead of a pencil symbol.  It didn't do this for 9998 or 10000.  Just 9999.
So I removed "beta Freight", and the pencils returned.  Thanks to everyone who helped me out!
Update: there's more to the story, namely that the copy of Freight in question was a beta, and not the final release, and the final release doesn't have the problem that bit me.  I've edited this post to reflect that fact.
---