Published 19 years, 1 month past
So here I am in Santa Cruz, California, at the Hypertext 2004 conference.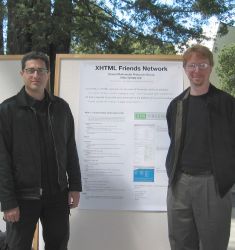 Our XFN poster presentation, in its full A0 glory, is up for everyone to see.  We're really looking forward to hearing the conference attendees' feedback.
Yesterday I presented a full-day tutorial on standards-oriented design which seems to have been well received by those who attended.  In the afternoon portion I presented a standards-oriented makeover of acm.org, which has some of the worst markup I've ever seen.  Go ahead, take a look at the HTML source for the links in the right-hand sidebar.  You'll be astonished.
Then again, yesterday I went to download the conference program and discovered it was a link to a PDF file with PHP session ID information appended to the URL.
(A short pause while I contemplate some choice words.)
What they pretty obviously did was take the PDF that was used to create the printed program and throw it online, which I suppose I can understand.  It's easy to take an existing file and just publish it.  In addition, the Thursday keynote is a case study of the creation of the PDF format.  But c'mon, guys—how about some hypertext, maybe?  Just a little?  Even links in the PDF?  The content lends itself beautifully to structural HTML, actually.
Oh well.  The cobbler's children and all that, I suppose.
---