Published 13 years, 4 months past
If you upgraded Thunderbird and discovered that the fonts used to display messages suddenly changed, and worse still, you were unable to get all messages to obey your font display settings, then this post is most likely for you.
Here's what happened to me: I upgraded to Thunderbird 3.1, and suddenly all my messages were in a font I didn't recognize or appreciate.  I insist on seeing only the plain text version (technically, the text/plain part) of all my e-mail; and what's more, that it be displayed in a monospace font.  Courier 13, in my case.
So I made sure "View > Message Body As" was still set to "Plain Text", which it was.  Then I went into the preferences and messed around for a bit.  Eventually I set every font setting I could in "Preferences… > Display > Formatting > Advanced…" to be Courier and have a size of 13, and also to make sure that "Allow messages to use other fonts" was not checked.  All this was done, and Thunderbird relaunched to make sure the preferences stuck.  They did, and most of my mail was displayed as I intended.  And yet a number of messages, such as those generated by Basecamp, were still displaying in this new, thoroughly unwanted font.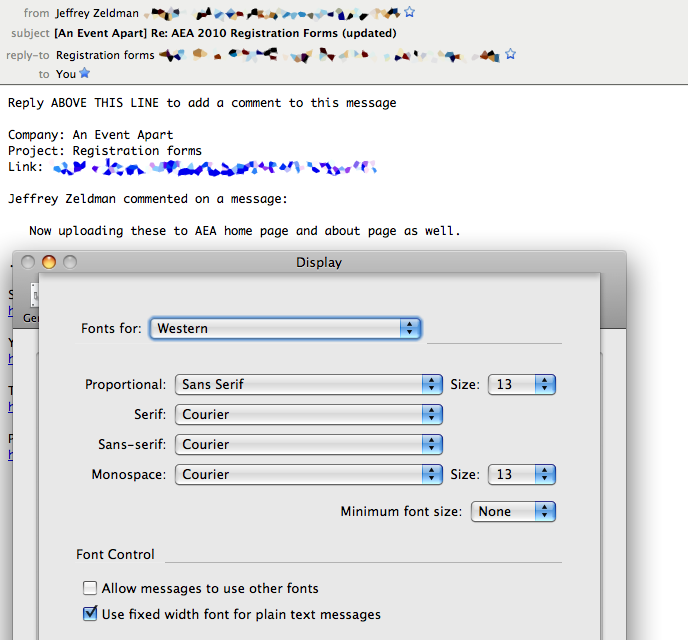 At first I thought it was happening with any HTML mail, but after viewing source on a bunch of messages (using command-U, same as in any Gecko browser) that didn't seem to be true.  I Googled about and came across a post on Daniel Glazman's blog which decried the problem in terms very similar to those I'd have used.  Unfortunately, all the comments on the post told me was that the interloping font is Menlo, that this was a deliberate decision by the Thunderbird team, and that they didn't seem to understand why anyone might be annoyed as hell to have their font settings changed out from under them with no apparent recourse.  What they didn't tell me was how to fix the problem.
Eventually, I tweeted a complaint—you know, the way you do—and Bryan Watson got me pointed in the right direction.  Something just told me that if I dug around in the hidden preferences, I'd find what I needed.  So I went to "Preferences… > Advanced > Config Editor…" and searched for "Menlo".  I got three hits, and it suddenly became clear what was happening:  Menlo was being used for Unicode-based mail.  Further, it would seem, the GUI options in "Preferences… > Display > Formatting" don't affect the settings for Unicode mail.  For whatever reason.

So I ran a new search in the Config Editor, this time for "unicode".  That got me several results, but it also got me what I needed: the settings for both the font face and the font size used to display monospace and "fixed" type in Unicode mail.
Accordingly, I changed three lines in the Config Editor—the ones in the screenshot which are boldfaced and have a "user set" value for the "Status" column—and with that, my mail was displayed the way I wanted it, which is to say the way it had been displayed for years, which is to say the way it would have continued to have been displayed if Thunderbird hadn't silently changed the settings on me and then refused to honor my reasserted preferences.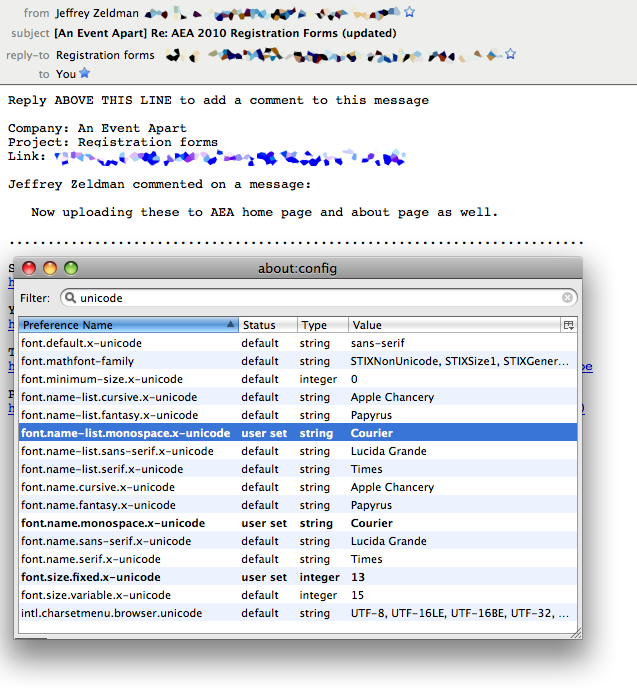 If you've encountered a similar problem, now you can do what I did and hopefully avoid some of the annoyance I experienced in trying to get my mail client to behave properly.
[Update 8 Jul 10: Mook wrote in to point out where this setting is buried in the preferences UI, for those who might want to set it without diving into the Config Editor.  Thanks, Mook!]
I'm also really rather annoyed that Thunderbird can't seem to remember that I don't ever want to see the Message Pane, but that's a reported bug and I only hope that they fix it sooner rather than later.
Translations
---