Published 17 years, 4 months ago
This just in: a large area of nightfall was spotted over west central Lake Erie late this morning, reducing visibility and confusing the heck out of everyone in the area.  Doppler radar registered the following at 10:52am local time: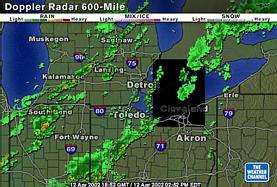 By early afternoon, the unexpectedly large area of nightfall had developed into a line of thunderstorms that moved slowly out of the area.
In a development that surprised nobody, Youngstown area Representative James A. Traficant phoned in from the planet Mars to blame the entire situation on vindictive federal prosecutors out to get him and anyone near him.  The U.S. Department of Vindictive Prosecutions could not be reached for immediate comment.
---