Published 19 years, 9 months past
Kat and I are now parents.  Earlier this evening, we welcomed four-day-old Carolyn Maxwell Meyer into our home and our hearts.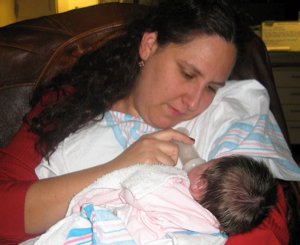 We named her Carolyn in honor of my late mother, a plan which we conceived (so to speak) shortly after Mom was diagnosed with cancer.  We kept it to ourselves for a while, hoping to make it a surprise.  Last Christmas Eve, realizing that Mom would almost certainly not live to see our first daughter, I told her what we planned.  It was one of the hardest things I've ever done.  It was a tacit admission that Mom had only a few months to live, and that she would never, despite our best efforts and a good deal of medical intervention, get to be a grandmother.
The middle name, Maxwell, is in honor of Kat's late grandfather Max.  It was he who gave Kat her middle name, and instilled in her a deep love of jewelry.  Kat remembers him taking her for long walks through Brooklyn and talking to her like an adult, and how he would let her play with gemstones on black velvet workpads in his workshop.  Both Kat and her mother loved Max very much, and Kat had decided to honor him with a namesake long before we even met.
We've had Carolyn home for just a few hours, and already the cat is annoyed.  But she'll adjust.  In the meantime, we're still trying to grasp that this tiny little person is actually ours, and that she'll be staying for quite a long time.
---