Published 18 years, 11 months past
The circus came to town yesterday, specifically to the Case campus.  It had in fact been arriving for the past few days, but things really started to kick into high gear yesterday.  So Jim, who has a parking pass to the most conveniently-located garage on campus, and I decided to make a mid-day pilgramage to campus and enjoy the sights.  And hey, why not share them with you?  Maybe you love circuses as well.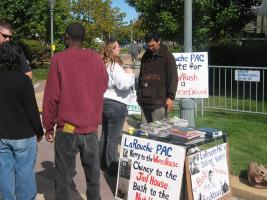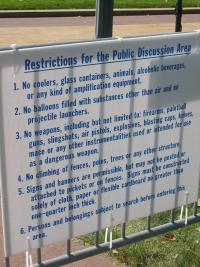 Even before noon, the Lyndon LaRouche folks had set up right next to one of the access points to the "public discussion area" (otherwise known as the "free speech zone").  From what I could tell the table was manned by college students.  I had no idea there were college students that wacked out.  So far as we could tell, they were obeying all of the posted rules, but the day was still early yet.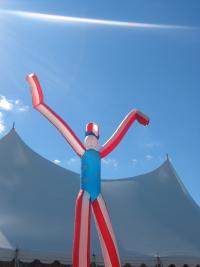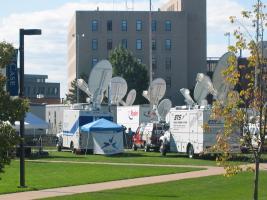 A little bit later on, we came across the Freedom Frankenstein, lumbering across the landscape like a big, scary, primary-color boogeyman.  Or something.  Okay, it was one of the decorations for the MTV concert area.  At least we think that's what area it was in.  The people setting it up didn't actually know, and crowd members seemed to be confused about which event was being held where.  Actually, the crowd members seemed to be confused about a great many things.
The football field just outside Emerson Gymnasium, the site of the debate, was covered with transmission trucks.  As we approached the field perimeter, we got the once-over from some grim-looking gentlemen in suits and shades.  A more normal-looking guy near the barrier line looked up at us and said, "You can't take pictures here.  The Secret Service guys won't allow it."  So we retreated a bit, gained higher ground, and took the picture anyway.  Which drew the attention of a couple of Secret Service guys; as they started walking in our general direction, we decided it was time to check out the other side of campus.  It's great to know that the media uplink trucks of the world are so well protected, you know?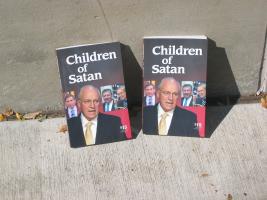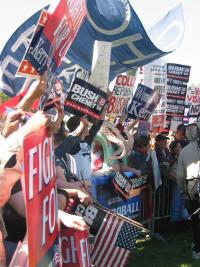 The two books pictured were just sitting next to a crosswalk on Euclid Avenue.  There was nobody within thirty feet of them besides us.  We couldn't quite work out if they were freebies (despite having cover prices) or if picking one up would activate some sort of hidden box trap.  We decided to leave them alone and go check out the Hardball rehearsal at the MSNBC stage.  Demonstrators for various causes and candidates had already staked out space, despite it being four or five hours before the show itself would air.  Chris Matthews came down and talked with the people along the fence line, and some volunteers practied handing out Krispy Kreme donuts.  Apparently that's something they do during the show.  Or else did.  I didn't watch it.
I'll say this much: Chris Matthews looks a lot less healthy in person than he does on television.  I didn't get a chance to ask him if Zell was still demanding that they duel.
In all, it was a fun time.  All it needed was some monkeys and maybe a juggling act, and the day would have been perfect.
---