Published 17 years, 7 months past
Today, Kat and Carolyn and I spent all day at the Great Big Food Show down at the I-X Center.  This is the Food Network's road show, and it was held in exactly two very hip and happening cities this year: Philadelphia and Cleveland.  The show ran here for three days, and every day there were multiple appearances from Food Network stars Marc Summers, Mario Batali, Rachael Ray, and Alton Brown.  Oh, heck, who are we kidding?  The only real star in our personal cooking firmament is Alton, deeply wacky dude and hacker cook extraordinaire.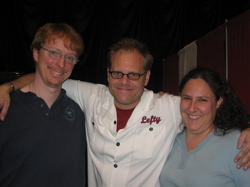 We stood in line to get our copies of his books signed, and also to thank him for his Thanksgiving turkey recipe, which quite literally changed how we cook.  I also told him his Web site (specifically, the wonderful Rants & Raves) needs an RSS feed.  He told me he had no idea what the hell that means.  That's all right.  Until Alton explained it on his show, I couldn't have told you what a Maillard reaction was, let alone how it related to cooking.
So, clearly, I need a TV show, so I can return the favor.
We also saw Alton's final stage show, where he did a sort of live-action espiode of "Good Eats" involving custards, eggnogs, ice cream, and other foam-based foods.  It was a lot of fun, with probably one or two thousand people in attendance.  I've heard that the other live shows were similarly popular, and with six shows a day over three days, that's a lot of people.  Even if you figure some repeat customers, that's still well over fifteen thousand.
What wasn't fun was the show floor, which was far too cramped and therefore choked with crowds of attendees.  The only reason I can imagine things were so tight is that they didn't want to pay for more floor space, because the show area was completely surrounded by empty space.  Rumor has it that next year they plan to make it even bigger, and I certainly hope that's the case.  It was clearly a popular event, so I think they can afford to bump up the surface area.  That may mean a slight bump in ticket prices as well, but honestly, they weren't terribly expensive so I think a small increase would be totally acceptable.  Especially if it yields more elbow room.
There were also vague promises of turning the live shows into a TV special.  I hope they make it two hours long, and call it the "Great Big 'Great Big Food Show' Show".  The name actually rolls off the tongue more smoothly than you might expect.
In all, we really enjoyed ourselves.  Hopefully those of you in less-hip cities will have a chance to see the show next year.
---