Published 13 years, 1 week past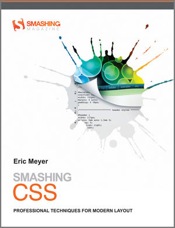 Well, I done did it again: I wrote a book.  This time, it's Smashing CSS: Professional Techniques for Modern Layout, published by Wiley and Sons and available as of some time last week.  (Just in time for the holiday gift-giving season!  Buy one for everybody in the family!  Don't delay—act now!)
What's different about this book as compared to others I've written is that this is a collection of short tips, tricks, and techniques for using CSS in everyday work.  Many of them involve making changes and seeing the results, similar to my New Riders books, but where those books had chapter-long projects these are usually only a page or three in length.  Well, okay, a few get up towards ten pages, but only on occasion.
Another difference is that Smashing CSS spans the spectrum from basic tools and browser features that can speed your development and debugging to some cutting-edge ideas and a taste of the latest CSS3 hotness.  I really do hope there's something in it for everyone, and with something like a hundred entries, I think my odds are pretty good.
I'm especially happy that it's in full color, which allowed me to do lots of screenshots as well as color-hinting of the markup and CSS, and personally I think it looks awesome.  I hope you'll agree.  Check out the official catalog page at Wiley or comparison-shop at ISBN.nu, and thanks!
Update 19 Nov 10:  Kindle, ePub, and PDF versions of the book should be available within the next week.  They're all in the hands of Wiley's ebook distributor, so now it's up to the distributor to get the files into the hands of ebook sellers.  On behalf of all you ebook fans, I hope it will happen soon!  (Is "ebook" the way we write that now?  I'm a little light on the lingo.)
Update 6 Dec 10: So far I've found the Kindle (mobi) and Nook (ePub) versions of the book.  Finding a good (read: legal) PDF version is proving difficult, so if anyone's seen it out there, let me know so I can link away!
---