Published 7 years, 6 months past
As Rebecca's Boardwalk wound down, one of our friends came up to me to say goodbye.  "This was just great, such a tribute," she said.  "I know it must have been a really hard day for you."
Instead of replying directly, I thanked her for coming, because I didn't know how to tell her that it hadn't really been hard at all.  Not in the way she'd meant, anyway.
It was eighteen months ago today that, in the span of half a day, Rebecca turned six and died.  Although I have tried in various ways, there is really no way to express what that was like.  There is no way I have found to convey the feeling of saying goodbye to your child forever, nor of what it takes to tell her it's okay to go.  Those who understand have done it themselves.  Those who haven't, don't, and I hope for their sakes they never do.
In the time since, I've devoted a lot of time and attention to grieving.  Just as Kat and I were with Rebecca's last weeks, and with her cancer treatment, and as we have been with the raising of all our children, and in most of what we do in life, I have been — for lack of a better term — deeply mindful of my grieving.  I don't mean to link it to the current fad of "mindfulness", which I know next to nothing about.  I just mean that Kat and I always try to be present for the present, and keenly aware of the future.  Acting locally and thinking globally, temporally speaking.
What I'm really trying to say is that a couple of months ago, more or less, I realized that I had turned a corner.  The agony of immediate grief has passed.  When I think of Rebecca, and even of her death, it is not a knife in my heart and guts.  Sometimes it's a dull ache, and sometimes it just…is.
And then sometimes, when I think of her, I think of the happy times and smile.  They are memories very much like those I have for Carolyn and Joshua, when I think back to a special day we shared, or a family trip, or a moment of accomplishment.  The sort of wistful, sweet, I remember-when smile that lightly touches the heart.  And if I then remember that there will be no more such moments, it is often felt as a simple fact of life, neutral in many ways.  I have, in a very real sense, accepted it.
I had imagined that I would one day be able to say this — in fact it was always a goal — but I expected it to take years.  I even wonder at times if I truly loved her, to have let go of agonizing grief so soon.  The rest of the time, though, I know that it is my love of her and her mother and her siblings — and more importantly, all their love of me — that has allowed this.
When I do grieve anew, it is usually for my other children, who must grow up without the sister they love so dearly.  But as Kat and I have showed them how to grieve, honestly and without shame or fear, now I hope to show them how to come to terms with it and find a kind of peace.
So yes, in my experience, time does heal wounds.  To heal is not to completely restore; I am not who I was and never will be.  That is always true, of course.  Every day makes each of us into someone new.  I changed irrevocably the day I first got married, and again the day I got divorced.  So too the day I married again, and the day Kat and I decided to become parents, and each time a child came into our lives.  And the day a child left us.
Deep wounds can weaken us, may even threaten our lives…and when they heal, scars remain.  This is the form of closure I have always sought: the stitching of a grievous wound, to let the ragged edges grow back together, slowly closing up to knit new tissue.  The mark is there, and will be until I finally die — but a mark is not an impediment to living.  Our scars are a part of us, and to deny them is to deny a piece of ourselves.  I know, because I tried.  For a time, I forgot the face of my daughter.  I remember it now.
Of course I still miss her, and of course some days are not so graceful as all this might sound.  Some days my throat still tightens with grief until my breath grows short.  There are not many such days, though, and fewer as time goes on.  Bit by bit, day by day, the pain eases and the fondness returns.  My memories of Rebecca are tinged more with affection than sorrow.
As she would want, really.  Her six-year-old ego, selfish in its unselfish way, would have wanted me to be sad that she went away; but her six-year-old spark, so bright and merry, would have wanted me to stop crying.  And sometimes, when I do feel the edge of grief's blade come close, I can hear her say, as she did whenever she wanted my attention and wasn't getting it, in her affectionately amused, slightly exasperated, wryly matter-of-fact tone: "Daddy, you're getting distracted."
And then I smile.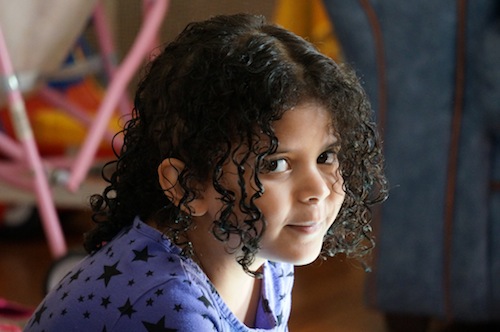 ---