Kat
(née Fradkin) | Contact Kat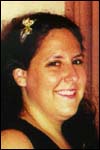 A Certified Family Nurse Practitioner and Doctor of Nursing (DNP), Kat works for the City of Cleveland through a role facilitated by MetroHealth Hospitals of Cleveland. She is also interested in the role that Kangaroo Care (KC) can play in promoting breastfeeding in newborns. Her work in this area has led a poster presentation at a the 44th Annual Conference of the American College of Nurse-Midwives in June 1999. She has also published two professional articles:
"Using Kangaroo Care in a Clinical Setting", MCN, Vol. 24 No. 4 (primary author)
"An Eclamptic Woman's Story", MCN, Vol. 24 No. 6 (co-author)
Kat has also held a coordinating role in a major KC study conducted at CWRU.