Across the Middle Kingdom

28 July 1998 - Zhouzhang / Suzhou
We left Shanghai early this morning by bus. Shanghai was by far the nicer and more interesting city, compared to Beijing. There is an energy and sense of growth which was obvious even during our brief stay. Beijing seemed more cluttered, or maybe it just seemed older.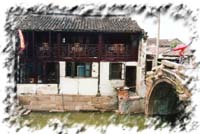 Arriving in Zhouzhang-- which has only been open to foreigners for the last ten years-- we met another local guide whose name I never did catch. We blew through the village, which as much canal as it is street, with a population of about 4,000. Lots of bridges and narrow street-alleys, that's my impression. Unfortunately, we were moving a little too fast to form more than a brief impression.
Lunch, as it turned out, was very, very good. As usual, the small local restaurants do a far better job than large city or hotel restaurants.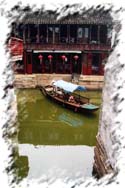 A short gondola ride later and a minor fracas (with some Americans, of course) later, we were aboard a ship chugging its way up the Grand Canal. We didn't see any water buffalo, much to Kat's disappointment, but then I don't think one would expect to see them in a canal. We did see a number of duck and goose farms, fishermen, children swimming and playing in the water, and of course a great many boats. We also saw quite a few brick kilns, some of which were in operation. I don't know how they stand it, considering how hot a kiln can get, given that the weather here is about 95F and 95% humidity.
After five hours (or so) we landed in Suzhou. Kat was far more taken with the next part of the tour than I was:
Eric forgot to mention the silk factory. He says the smell of boiling bugs made him sick and he blocked it out.
To make the silk they hatch the larvae and feed them tons of mulberry leaves. After 25 days of non-stop eating the larvae spin a cocoon-- once they do that, the cocoons are harvested and baked in order to kill the chrysalis. After being sorted, the cocoons are boiled to soften the silk threads. Women trained to find the end of the threads do so and feed them into a machine. It takes eight cocoon threads to make one silk thread, which the machine spins automatically.
After that, the threads are wound on big spools for later dyeing and weaving. I bought Mom a silk scarf and myself a tie-dyed scarf. I also bought a silk shawl that feels like velvet. I thought it was a neat place.
Poor Eric thinks you could follow our path through China by the trail of sales receipts...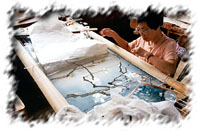 I will admit that the silk embroidery we saw being done was very impressive. We were told that it can take two months just to embroider a small project like the two-sided cat portrait we purchased. Larger pieces, like reproductions of paintings or original works, can literally take years of work.
We then headed to our hotel, the Bamboo Grove. Here we availed ourselves of the very nice indoor swimming pool before heading to dinner (the usual lazy-susan buffet) in the hotel, which was accompanied by a live performance of some traditional Chinese music.
Dinner was followed by a cultural exhibition to the Garden of the Master of Nets. The way it worked was that we would see a performance in one room, then make our way through a part of the garden to another room and another performance. There was usually a stop between rooms so that we could appreciate some aspect of the garden. It was quite lovely by night, with lanterns and other lights reflecting dimly off the central pond.
The performances were either musical, dramatic (various types of Chinese opera, not all of which involve music), and one folk dance. The one performance which stands out in my mind was that of a Chinese bamboo flute. We sat in a gazebo on the edge of the pond at the center of the garden, and the flutist stood at the water's edge on another side of the pond and played from there. The sound of the flute across the water, and reflecting off the garden walls, was enchantingly beautiful. I closed my eyes for most of it, just to catch the nuances.
The other performances varied in interest and appeal, but all were well done and good in their own ways.
When we got back, I was completely unable to resist the urge to use the Internet connection in the hotel's business center. We did manage to chat briefly with Peter, but the slowness of the connection (a 19.2Kbaud with some truly nasty packet delays) and some trouble on the CWRU side of the connection kept our contact briefer than I would have liked. Still, I managed to get in touch with my co-worker from the other side of the world, in semi-rural China, without paying international phone/voice rates. How cool is that?