Published 19 years, 4 months past
More and more over the past few days, Carolyn has started smiling—they're usually quick and fleeting, but more often she's broken into wide grins that crinkle her eyes and pull her cheeks back.  When I'm holding her and she does it, I can feel a flood of endorphins surging into my body, attempting to get me addicted to her smiles.  There are certainly worse addictions to have.  We don't have a picture yet, and when we do it will probably show up on her soon-to-be-created page.  Meanwhile, we do have a picture of her getting ready to head outdoors;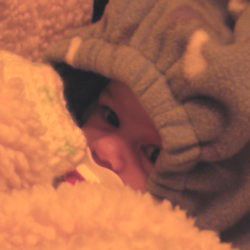 hopefully that will satisfy people's picture cravings for a few days.
With the amount of time I've been spending in iPhoto these days, downloading new Carolyn pictures from our camera, there's been a slowly strengthening impulse to publish my favorite pictures as a gallery of sorts.  I was getting pretty close to doing it when, fortunately for us all, Derek Powazek launched ephemera.org.  Five minutes looking through the site woke me up and completely disabused me of any notion that a gallery of the photographs I take would be in any way necessary.  I want to order large prints of several of Derek's photos and hang them in my office.  The same's true of many pictures that Heather has taken, and now that the two of them are engaged (for which I humbly offer my very belated congratulations!), I foresee the formation of a photographic powerhouse of previously unimagined proportions.  How do they get their pictures to be so vivid, anyway?  The colors are just so deep and perfect; they make me want to cry when I look at my own pictures.
You'll still get to experience some small portions of my photography, though.  I'm slowly working through the final steps of a meyerweb redesign, and you can see the wireframe if you're at all interested.  If you hit major layout errors, you can let me know, but four things to keep in mind:
The font size is what it is, or at least will be what it will be.  In other words, I'm going to size fonts as I think appropriate for my site, taking into account everything I know about browsers, users, CSS, and the pros and cons of various font-sizing approaches.  Telling me that I've made the wrong choice will not change anything, because there are almost no objectively wrong choices in this area.  There are only tradeoffs.
If your browser window is too narrow in the IE/Win series, then the sidebar will likely start overlapping the content.  This is due to the bugs in IE/Win's handling of width, so try widening or maximizing your browser window to see if any observed overlaps are fixed.  If not (and your resolution is higher than 640×480) then let me know.
I know that some of the sidebar content repeats, is badly out of date, or points to non-existent resources.  It's mostly there as a placeholder so I can resolve layout issues without having to get all the data assembled first.
The journal entries aren't very well laid out yet.  I'll get there soon.
The new design will let you experience (some would say suffer through) bits of my photography because the masthead will contain slices of pictures I've taken.  I apologize in advance.
---