Published 18 years, 1 month past
A recent post by Ferrett about sneaky marketing via faux-stained envelopes reminded me I had a similar trick envelope sitting around to be scanned and posted.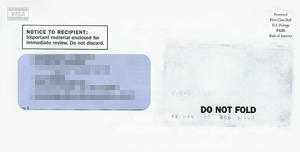 See that faint impression of a slightly askew credit card on the right half of the envelope?  It looks just like the envelope got run through a rubber-wheel sorting mechanism, or maybe dropped and run over with a cart before being picked up, and the credit card being shadowed with dirt or something, right?  There's no card in the envelope.  Inside this bit of chicanery is a "Pre-Approved Acceptance Certificate" that will let me transfer balances to a whole new card that they'd be just too darned happy to send me.  Also a Fee and Rate Information pamphlet.  That's it—all paper.  That faint card shadow is a bit of graphic design, nothing more.
Oh, they're good: too clever by half.  Especially since, having seen this trick, I'm less inclined to do business with these jokers in the future.  And I'd like to point out that the jokers in question are not Visa, except by indirection.  The presence of their logo in the upper left corner implies that they sent it, but they didn't.  It's just an offer for a Visa card through Bank of America.
I've actually gotten a few more nearly identical envelopes by now, so the trick doesn't work quite as well; all I have to do is flex the envelope to tell if there's a card in there or not, which I actually do with all envelopes I'm preparing to throw away.  But what really twists my grin is the corporate branding in the masthead of the enclosed letter exhorting me to take advantage of the limited-time no-hassle offer that they did their level best to trick me into reading: "Bank of America — Higher Standards".
Um… maybe not.
---