Published 8 years, 3 weeks past
Yesterday was the inaugural Rebecca's Boardwalk, a fundraiser in support of Rebecca's Gift.  About two hundred people joined us for soft pretzels, snow cones, bounce houses, carnival games, face painting, and temporary tattoos.  I saw former co-workers and even a high school classmate there.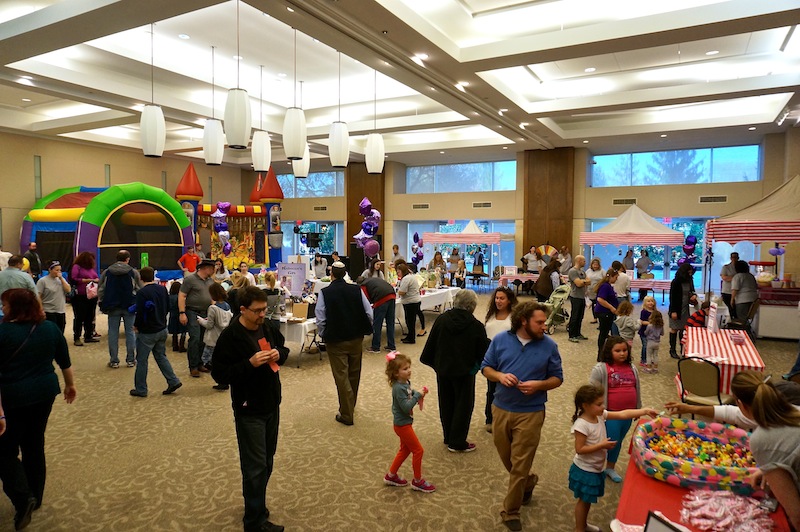 Between the ticket sales (both admission and activity) and the money raised in the raffles and the silent auction, Rebecca's Gift raised enough money to send another family on a healing trip.  None of that would have been possible without a huge community of helpers and volunteers, so many that I could never thank them all.  There are a few I'd like to specially note, however.
First, my wife Kat and our friend Karla, who are the co-founders of Rebecca's Gift and the people who really put the whole Boardwalk event together.  With help, of course, tons of help — but they were the driving forces.  People often think that Rebecca's Gift is something I put together, but I didn't.  It's all them.  The non-profit wouldn't exist, and the event wouldn't have happened, without their drive.
Second, David Leslie Johnson, who contributed signed scripts from The Walking Dead, a signed making-of book from Red Riding Hood, and a signed poster from The Conjuring to the silent auction.  If you're a horror fan, you might recognize David as the screenwriter of Orphan, as well as his involvement in the upcoming re-reboot of A Nightmare on Elm Street and the sequel to The Conjuring.  He's also one of my best friends, as he has been since late elementary school.
Third, Tattly, which donated a lot of boardwalk-themed temporary tattoos.  For example, this Ferris Wheel design, and this very appropriately-themed set.  If you've never seen Tattly's tattoos, they're really something.  Vibrant, detailed, and most of all fun.  If you're looking for temporary tattoos, check them out first.
Fourth, Anshe Chesed Fairmount Temple, for providing us with the right space for the event, for giving us the support (and storage space!) we needed to pull the whole thing off, and for trusting us with both their facilities and their schedule.
And fifth, again, everyone who donated items and sponsored booths and bought tickets and came to have a good time, just down the hall from the preschool classes where Rebecca wowed everyone with her sparkly dresses and impish grin.  It was an afternoon worthy of her name and her spirit.  Thank you all.
(If you'd like to support the mission of Rebecca's Gift, please feel free to use the Donations page.  And thank you.)
---