Published 19 years, 5 months past
Yesterday afternoon, in a small court room on the twenty-second floor of the Franklin County Courthouse in downtown Columbus, Ohio, Kat and I legally finalized our adoption of Carolyn.  There were just two witnesses to this event: the legal representative for the adoption agency, and the magistrate who conducted the proceedings.  The entire proceeding was recorded using a PC to digitally capture the audio, which I thought was rather advanced for a government agency.
To get to the courthouse, we drove two and a half hours through bursts of rain and heavy interstate traffic.  The hearing took less than twenty minutes.  After taking some pictures with the magistrate,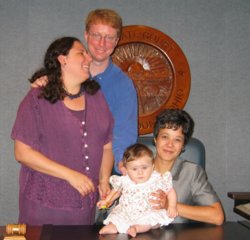 we drove back to Cleveland.  After an hour or so to rest, we celebrated this milestone yesterday evening at our favorite restaurant, Matsu, with a small gathering of friends.  For the first time in my life, I ordered a Big Boat o' Sushi (I've always wanted to do that), and with the help of everyone at the table the decks were pretty well cleared.
Until now, I haven't said anything here about Carolyn being adopted, although it might have been possible to infer it by reading very closely between the lines of some early posts.  To a large degree, this silence was dictated because the adoption wasn't legally complete.  In a legal sense, we were just borrowing her from the adoption agency on a six-month trial basis.  During that time, we were regularly visited by a social worker who, I assume, was making sure that all was well, that she was thriving both physically and mentally, and that we hadn't done anything that might be considered unsafe, such as setting up a crystal meth lab in the kitchen or acquiring a pet grizzly bear or something.
Where it truly matters, of course, things haven't really changed.  Our love for Carolyn is as deep today as it was yesterday—maybe a little deeper, because as every day goes by it seems that we love her (and each other) a little bit more.  All that happened in Columbus yesterday was that the state officially and irretrievably recognized what was already true: Kat, Carolyn, and I are a family, with everything that implies.  We will share joys and sorrows, work together and play together, overcome obstacles and support each other.  We will love each other for the rest of our lives.
I'm not sure what I did to be granted such a wonderful daughter and wife, but whatever it was, it must have been really, really good.
---