Published 11 years, 8 months past
Last Thursday, I had the rare honor and privilege of chatting with Jen Simmons as a guest on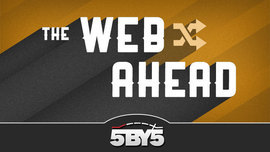 The Web Ahead .  (I've also chatted with Jen in real life.  That's even awesomer!)  As is my wont, I completely abused that privilege by chatting for two hours — making it the second-longest episode of The Web Ahead to date — about the history of the web and CSS, what's coming up that jazzes me the most, and all kinds of stuff.  I even revealed, toward the end of the conversation, the big-picture projects I dearly wish I had time to work on.
The finished product was published last Friday morning.  I know it's a bit of a lengthy beast, but if you're at all interested about how we got to where we are with CSS, you might want to give this a listen:  The Web Ahead, Episode #18.  Available for all your finer digital audio players via embedded Flash player, iTunes, RSS, and MP3 download.
My deepest thanks to Jen for inviting me to be part of the show!
---