Published 19 years, 5 months past
The previous week's silence was caused by a trip to visit my father at his new digs in Florida.  His house is really nice, but the weather was not.  Every single day was really, really hot, and humid to boot.  As an official pasty white northern boy, I had a lot of trouble handling it.  Dad's house is of course air conditioned, but that just made going outside all the worse.  I had to wait until late in the afternoon before I could even go out on his lanai (screened-in patio).
Said lanai was frequently visited by earwigs, Florida's answer to the silverfish.  Have I mentioned how much I loathe both forms of insect?  I mean, I'm no fan of insects generally, but silverfish and those hairy-centipede-like things we get in Ohio are particularly horrifying.  Earwigs are not much better, in my book.  What's worse, they had a tendency to get into the house.  I was in the middle of feeding Carolyn breakfast one morning and looked down to see a sizeable earwig on my leg, having just stepped from my sock to my bare flesh, waving its feelers about as if trying to decide where it should attack.  In what I feel was an impressive display of parental fortitude, I managed to refrain from screaming like a panicked little girl.  Instead, I knocked the bug off my leg and then stomped on it five or six times, just to make a point.  Carolyn was fascinated enough by the new game I appeared to be playing that she didn't complain about the interruption to her breakfast.
Of course, since Dad lives about an hour from Disney World, we took Carolyn on her first trip.  We went to EPCOT.  Why there?  A few reasons:
They were having their annual flower exposition, so the grounds were even more beautiful than usual.
We figured the crowds would be a lot thinner there than at the Magic Kingdom, an assumption that seemed to be correct.
Carolyn's too young to really appreciate differences between the parks.  We decided to save trips to the Magic Kingdom until she's old enough to appreciate it more fully.
EPCOT is my favorite of the parks at Disney World, especially the international section.
Because we'll be back to visit Dad with some regularity, we were able to take a more relaxed attitude toward our day at EPCOT.  We've done the endurance-test sprint from park to park, packing in as much as possible.  This was a leisurely stroll through the parts of the park that most interested us.  We didn't get to everything.  That was okay.  Because, as I mentioned, it was really damned hot.  Despite consuming lots of water at meals and while walking around, I think I managed to dehydrate.  That was a problem in China too, and now that I think about it, the weather was very similar.  We pretty much all felt like Carolyn did in ths picture.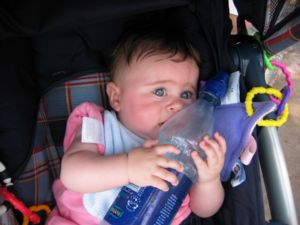 We actually got her to drink from the bottle, too, and without choking.  All right, keep your smart comments to yourselves.
One of the most fascinating things about the entire day was watching Carolyn react to everything around her.  To her, everything is of equal interest, and the most routine things can be as entrancing as a once-in-a-lifetime event.  (Not that this is the only time she'll ever go to Disney—not by a long shot.)  After lunch at the Japanese pavilion, Dad decided to take his granddaughter to see the taiko drummers performing outside.  He held her up to see them better, and she immediately locked her gaze onto a three-year-old girl sitting on the ground about ten feet away.  Carolyn studied this girl as if she held the secret to life itself.  A few minutes later, a small tree came in for the same treatment.
I've heard it said that through a baby's eyes, you can see the world anew.  It sounds wonderful, deep, meaningful.  It sounds like a homily for the ages.  In practice, it's simply that you get to watch someone with no preconceptions about the world react to everything around her, but that alone is exhilirating and amusing, mystifying and fascinating.  I could spend all day watching her watch the world.  When she's trying to figure something out, the look of pure, unadulterated concentration is so intense it makes me want to laugh with joy.  I can't explain why.  It just does.
Later on that same afternoon, Carolyn discovered that in addition to fine books, O'Reilly also produces a great chew toy—I mean hat.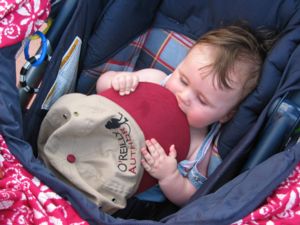 That was shortly before lapsing into a late-afternoon nap.  Kat and I took advantage of the nap to park her with Grandpa and wander through the Moroccan pavilion, which is one of my favorites.  The architecture, rambling byways, and artistry of the pavilion are all top-notch, as you would expect: the Moroccan king sent his personal artists to create the frescoes and other aspects of the pavilion when it was constructed.  The covered bazaar area at the heart of the pavilion is almost like a hidden treasure, cool and generally uncrowded.
After a fine dinner at Les Chefs de France, we headed out of the park.  I snapped a final picture of the Spaceship Earth globe just a few minutes before the evening's show began.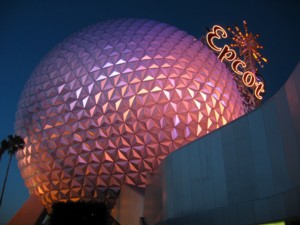 Carolyn slept practically the whole way back to Dad's place.  She'd been an amazingly good girl the whole day, considering the heat and level of activity.  I can't believe how lucky Kat and I are to have such a wonderful daughter.
---