Published 5 years, 5 months past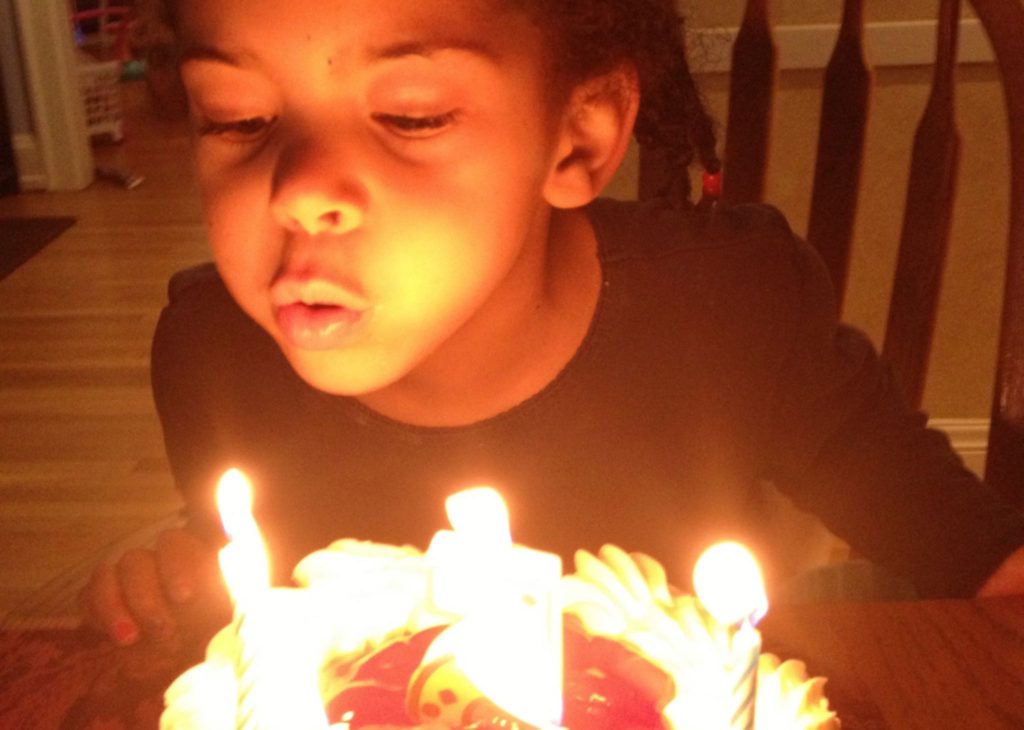 In another timeline, an early alarm woke Kat and me this morning so we could sneak into Rebecca's room with her siblings and wish her a happy birthday at the moment she turned ten, 7:24am, June 7th, 2018.
Two digits.  It's a big milestone, in its way.  Rebecca's best friend Ruth passed it a few days ago.  Ruth, who she called "Ruthie".  Who shared all three of her initials, and practically had the same birthday.  Who was the last person to whom Rebecca ever spoke a complete sentence in her full voice, the morning of the day before she died: "Goodbye Ruthie, I love you, MWAH!"
Ruth, who still dreams of Rebecca, happy dreams that make her waking sad.
I have dreams like that too, when I remember them.  I don't often remember my dreams.  But sometimes, I get to spend a little time with her, free of sorrow, on a nighttime walk or at an amusement park my subconscious constructed out of all the parks we ever took her to.
Kat and Carolyn and Joshua and I went to the grave marker this morning, because Kat works all afternoon into the evening and Joshua has an all-day LEGO and chess camp and Carolyn has friends to see before summer vacation gets crazy.  Because life moves on even when a part of you can't understand why the sky doesn't collapse and the world doesn't crack open and time doesn't shatter into a million sharded memories.  Classes get taken, grades get graduated, camps get attended, trips get planned, work has to be done.  Each day follows on the one before, pulling you further and further away from the last moments your life was normal.
We stood or sat or huddled around the flecked slate blue granite slab under the gray clouds of morning, emotions flaring and fading, subsumed by a profound sorrow without many tears.  We're too used to it, now.  The sobs of previous years have given way to a steeled mourning.  Sometimes there is resentment at the stupid blind unfairness of the holes shot through all our hearts, the hole in our lives, and all the things she and we never got to experience.
Her playgroup friends still talk of her with their parents.  Rebecca was a good friend, she was funny, she was fun, she was so nice.  In their way, still trying to come to grips with what happened to her.  To them.
They don't mention her to us.  Children, trying to protect the grown-ups.
Which makes sense, since they know, now, that sometimes grown-ups can't protect the children.  Sometimes the killer gets into the house and there is nothing you can do to cast it out.
Sometimes there is nothing anyone can do, except hold the victim's hand as her life ebbs away, and wish your desperate pleas to take her place had been heard.  That there was something to hear, anything to hear, and accept a frantic parent's bargain of life for life.
Ten years ago today, Rebecca came into this world.  Four years ago today, she left it.
I can't remember if I ever told her I would never forget her, or if I was too afraid of frightening her.
I clearly remember when and where she told me, sobbing, knowing she would die, that she would never forget me.
I can still recall the terrified strength in her arms, locked around my neck.
I hope I told her then.
Today she should have been ten.
---